FranLink System™
Powered by the Franchise Broker Association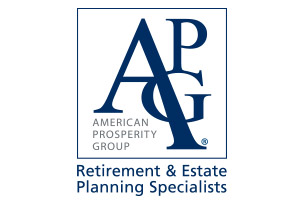 American Prosperity Group
TOP REASONS TO OWN AN APG FRANCHISE
APG is a marketing company in an unlimited market. We know how to get clients – NO COLD CALLING or preying on family, friends or business associates! People are either accumulating money, living on it or passing it on – whether they are 19, 92 or anywhere in between, everyone needs Retirement Income, Asset Protection & Estate Planning services.
A Financial Business Opportunity– with limitless potential for growth in a multi-trillion dollar industry. This is not a MLM (Multi-Level Marketing Company).
Financial Independence – therefore enabling more personal financial strength and more opportunity for personal and family time.
One-Person Business (Perfect for spouse participation as Office Manager or Franchisee may hire Office Manager, if desired).
Low Start-Up Costs
NO expensive real estate to buy
NO employees (optional part-time Office Manager – spouse works well)
LOW start-up costs / FAST & Excellent ROI
Average first year start-up cost is $90k (including Franchise Fee)
Proven system (30 + year history / Franchising since 2006)
Strong & Ongoing Training and Support
Able to Help People and their families in very measurable ways
ITEM 19 – Earnings Claim
Excellent Franchisee Validation – In 2014 awarded Franchisee Satisfaction Rating of 82.3% from Franchise Business Review.
WHO IS AMERICAN PROSPERITY GROUP (APG)?
We are America's first Retirement & Estate Planning Franchise and we teach Franchisees with no experience in the financial services industry "from A to Z" how to be successful Retirement & Estate Planning professionals with an unlimited income opportunity. APG was founded by Mark Charnet, who is a self-made multi-millionaire as a result of the very concepts he is teaching our Franchisees. Mr. Charnet is currently the CEO/President and owner of APG.
Franchises are awarded across the USA to select individuals that market to the community at large. APG is a marketing company that sells retirement & estate planning products & services – we teach our Franchisees how to become proficient, competent Financial Planners and Investment Advisor Representatives. We specialize in retirement, estate and asset protection planning. Most importantly, we instruct our franchisees how to get clients rather than prey on family, friends & business associates. APG is NOT a multi-level marketing company – there is NO recruiting & NO cold calling. APG Franchise Owners participate in America's most important and fastest growing industry obtaining financial security! In a nutshell, APG Franchisees teach their clients how to: "Maximize their income today while simultaneously protecting, preserving and perpetuating their wealth for tomorrow!®"
APG's MARKET – THE BUSINESS TO BE IN FOR THE NEXT 50 YEARS!
 As the Baby Boom Generation ages, American Prosperity Group offers an exciting career opportunity to serve them. Candidates can own their own business in the fast-growing retirement, estate and long-term care planning field – providing clients with special, unmatched financial products & strategies – and enjoying the benefits of a revolutionary franchise company with a one of a kind business system. The Pre-Retirement & Retirement Community Market (the Senior Market!): $18 to $40 Trillion is expected to transfer between generations in the USA over the next 25 years and APG is well-positioned to assist & capitalize on that historic opportunity. 36.3 million Americans over 65 and 10,000 Baby Boomers turn age 65 every day in the US between 2013 – 2029. By 2030 86.7 million Americans will be over age 65.
BEST FRANCHISE CANDIDATES

No prior experience preferred
No college degree necessary
Has great people and communication skills for consultative & relational sales
PASSIONATE desire to help people and have an immediate positive impact on their lives
People, sales & relationship-driven
Interested in the subject of money, investments and have an affinity for numbers
Investing may be a current hobby
Determined to own their own business
Desire an opportunity for unlimited earnings potential
Professionally-minded
Driven and self-motivated
Enjoy public speaking (presents well to an audience of about 15-25 people)
Civic minded & community-oriented
Known to have a winning attitude, sound judgment and possess the highest personal & professional qualities including honesty, integrity and self-motivation
Wants to have a better balanced life-style
APG IS HIGHLY RATED IN FRANCHISEE SATISFACTION
2014 – Franchisee Satisfaction Award – Franchise Business Review
2014 – Top 200 Franchises Best of the Best – Franchise Business Review
2014 – Best of the Best Top Low Cost Franchises – Franchise Business Review
2013 – Best Business Services Franchises – FranchiseHelp.com
2013 – Best Franchisee Satisfaction (2nd in Category world-wide) – Franchise Business Review
2013 – Best Franchises in America for 2013 – America's Best Franchise.com
2013 – Top 20 Franchises in America – by FranchiseHelp.com
2011 – Best of the Best
2011 – #17 in Top New Franchises
2011 – #1 in Category – Misc. Financial Services
2011 – #300 in Top 500
2011 – #421 Franchises in Social Media
2010 – Best Trending Franchise
2010 – #9 out of 3,000+ franchises by RedHotFranchises.com
2009 – #474 Entrepreneur's Top 500 Franchise
WHY BE AN APG FRANCHISEE? – TRULY A RECESSION-PROOF INDUSTRY!
 APG knows how to secure clients. With over 32+ years as one of the most successful Retirement & Estate Planning Professionals in the nation, American Prosperity Group (APG) Founder/CEO Mark Charnet has a proven track record of replicating that success and has created the APG Franchise Opportunity for people who are looking for:
 A real chance for financial independence with an unlimited income opportunity
A balanced lifestyle that they can truly enjoy their professional life as well as family life simultaneously
A time-tested business "blueprint" with:

Proven system (32 + year history / Franchising since 2006)
NO expensive real estate to buy
NO employees (optional part-time Office Manager – spouse works well)
NO inventory
LOW start-up costs / FAST & Excellent ROI
Average first year start-up cost is $90k (including the $50K Franchise Fee)
And a highly rewarding career that helps people and their families in very measurable ways
APG'S current franchisees validate extremely well
January 2014: Franchise Business Review Franchisee Satisfaction Survey = 82.3%
 APG'S FRANCHISE DISCLOSURE (FDD) CONTAINS AN ITEM 19
Basic Franchise Info
Average Investment: $100000
Minimum Investment: $95800 - $127300
Min. Liquidity: 100000
Years in Business: 1991
Open Units: 14
In-House Financing: Yes
Lead Assist: Yes
Coaching: Yes